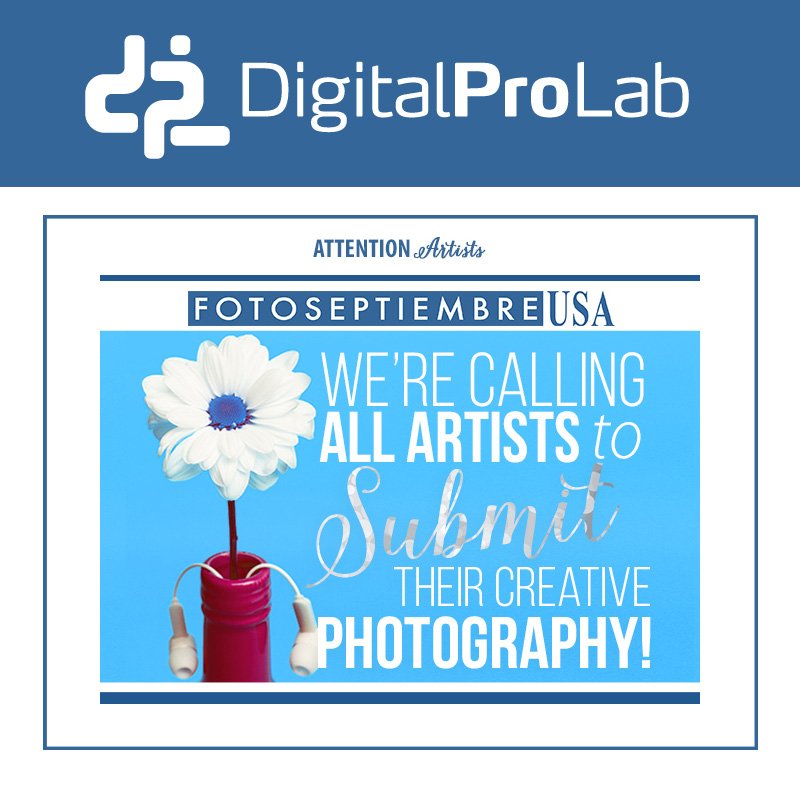 Digital Pro Lab is excited to announce its participation in this year's FOTOSEPTIEMBRE USA International Photography Festival. For the entire month of September, we will be transforming our retail space into an art gallery and will host a curated exhibition in celebration of photography as an art form.
We are pleased to invite both up-and-coming as well as established artists to submit works of photography for consideration. Guest curator Alicia Viera will assemble and lead a curatorial team that will review all submissions and curate a participatory exhibition for FOTOSEPTIEMBRE at Digital Pro Lab. There is no cost to submit, and if selected, Digital Pro Lab will provide printing and mounting services at no cost to the artists.
There is no theme by which we are limiting photographers. We encourage the submission of a full range of photographic styles. As we are a family-frequented establishment, however, and the final image selections will be displayed in our retail space, we ask that you take this into consideration when selecting your final image submissions.
NOTE: The curatorial team will develop a thematic exhibition if the submissions allow for it.
Artists are required to submit the following in addition to image submissions:
– Personal Statement or Artist's Statement
– Title of Work
– Year Created
– Statement about the photograph
• Artists are allowed to submit up to five images.
• Artists must be the sole copyright holder of the images being submitted.
• Submissions will only be accepted through our Online Submission Form. The Submission Form does have a 'Save' feature and can be completed over a period of time, if needed.
• File size must not exceed 4MB per submission. If larger file sizes are available, there will be an area where this can be indicated at the time of submission.
• Files should be saved in JPG format, RGB mode and use the sRGB Color Profile.
• Artists must agree to the Use of Image(s) Agreement.
• Submissions must be received no later than May 31, 2015 at 11:59 p.m. CST.
• Past and present Digital Pro Lab employees are not eligible to participate.
For questions regarding submissions rules and requirements or about this event, please contact Amanda Dominguez, Marketing Manager, at 210-377-3686 or amanda@digitalprolab.com.
Alicia Viera is the Director of Cultural Programs at the Texas A&M University-San Antonio's Educational & Cultural Arts Center where she has recently curated exhibitions such as Contemporary Latino Art: El Corazón de San Antonio, Arte y Tradición de la Frontera: The U.S. – México Borderlands in the Works of Santa Barraza and Carmen Lomas Garza, and The Texas Size Breach Collaborative: From El Paso to San Antonio. Viera has been involved in museums and art galleries in different capacities throughout the years and is currently a doctoral candidate in Art Education/Arts Administration at Florida State University. She holds graduate certificates in museum studies, art museum education, and program evaluation, a Master of Arts in Arts Administration and a Bachelor of Fine Arts in Graphic Design. Viera strives for developing exhibitions that are non-authoritative and that facilitate the understanding and appreciation of art by engaging new and current museum audiences in more relevant and meaningful museum experiences that can enrich their personal lives and those of their loved ones.