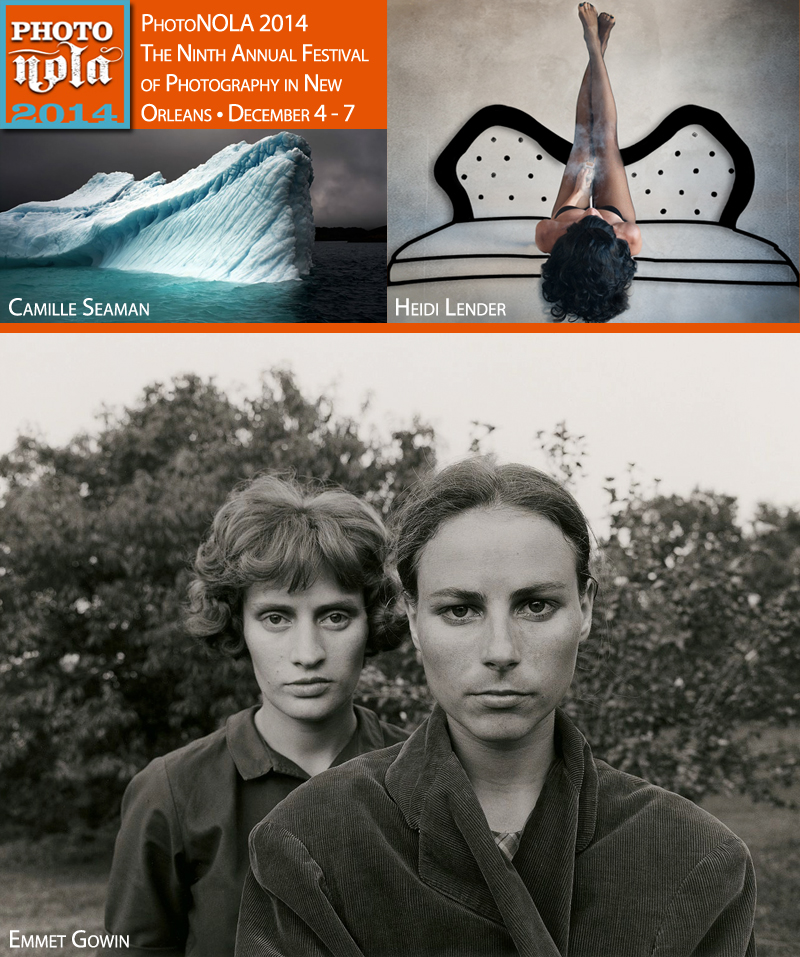 PhotoNOLA 2014
www.photonola.org
The Ninth Annual Festival of Photography in New Orleans | December 4-7
The ninth annual PhotoNOLA takes place December 4 – 7, 2014, in New Orleans, LA, with a broad range of photography exhibitions on display throughout December. More than 50 exhibitions will feature work by Andres Serrano, Heidi Lender, Christina Blackwood, Kevin Kline, and Richard Sexton among others. Workshops, gallery talks, a contemporary photobook exhibition, and lectures are included in the schedule. Most events are free and open to the public.
PhotoNOLA festivities begin on Thursday, December 4 with a symposium on the current photographic marketplace featuring a lecture by Mary Virginia Swanson and an industry panel discussion. That evening Emmet Gowin will present our Keynote Lecture at the New Orleans Museum of Art followed immediately by the PhotoGALA Benefit Party.
PhotoNOLA's portfolio review, with an international cast of 30 curators, editors, and gallerists, takes place December 5-6. Friday evening's PhotoWALK at the Ogden Museum of Southern Art offers a public peek at the work of 70 rising photographers from across the country, all of whom are participants in the Review Sessions.
PhotoNOLA is offering two hands-on workshops: Wetlands Workshop with Camille Seaman (Dec 5) and Chemigrams with Heather Oelklaus (Dec 6).  On Saturday evening, photography exhibitions across the city will host opening receptions.
Sunday, December 7 is Museum Day, whereby partnering institutions host public events beginning with an exhibition walk-through at the Ogden Museum with its Curator of Photography, Richard McCabe, and a guided tour of the Prospect.3 photography exhibitions at the Contemporary Arts Center, led by Brooke Davis Anderson and Charlie Tatum. Noted photographer Camille Seaman will present a lecture at The Historic New Orleans Collection Williams Research Center. Other events include a panel discussion on music photography at the Old US Mint followed by a multi-artist book-signing event.
About PhotoNOLA: PhotoNOLA is an annual festival of photography in New Orleans coordinated by the New Orleans Photo Alliance in partnership with galleries, museums and other venues citywide.  Events include portfolio reviews, lectures, workshops, openings and a gala, with a broad range of photography exhibitions on display throughout the month, showcasing work by photographers near and far. PhotoNOLA draws hundreds of photography professionals to the city to partake in a variety of educational programming and reaches broadly into the local community with exhibitions and events that are largely free and open to the public. The ninth annual festival takes place December 4 – 7, 2014.
Jennifer Shaw
Director, PhotoNOLA Festival
504-269-9740
info@photonola.org
www.photonola.org
www.facebook.com/photonolafestival