2014 FOTOSEPTIEMBRE USA Press Archives
• FOTOSEPTIEMBRE USA
Conversation : UTSA President Romo Returns from Guatemala
Robert Rivard – The Rivard Report | November 19, 2014



FOTOSEPTIEMBRE 2014 – An Insider's Look
Vernelle Lynch – Destinations San Antonio


FOTOSEPTIEMBRE 2014 – An Insider's Story
Vernelle Lynch – Ten West Living


El Placazo Special Photo Issue
Detrás Del Lente Youth Photography
San Anto Cultural Arts


Straight From Spain
Photography by Isabel Muñoz and Juan Manuel Castro Prieto
FOTOSEPTIEMBRE at Ruiz-Healy Art
Artdaily.org



Seven San Antonio College Employees Featured In FOTOSEPTIEMBRE Exhibit
Pam Paz for The Ranger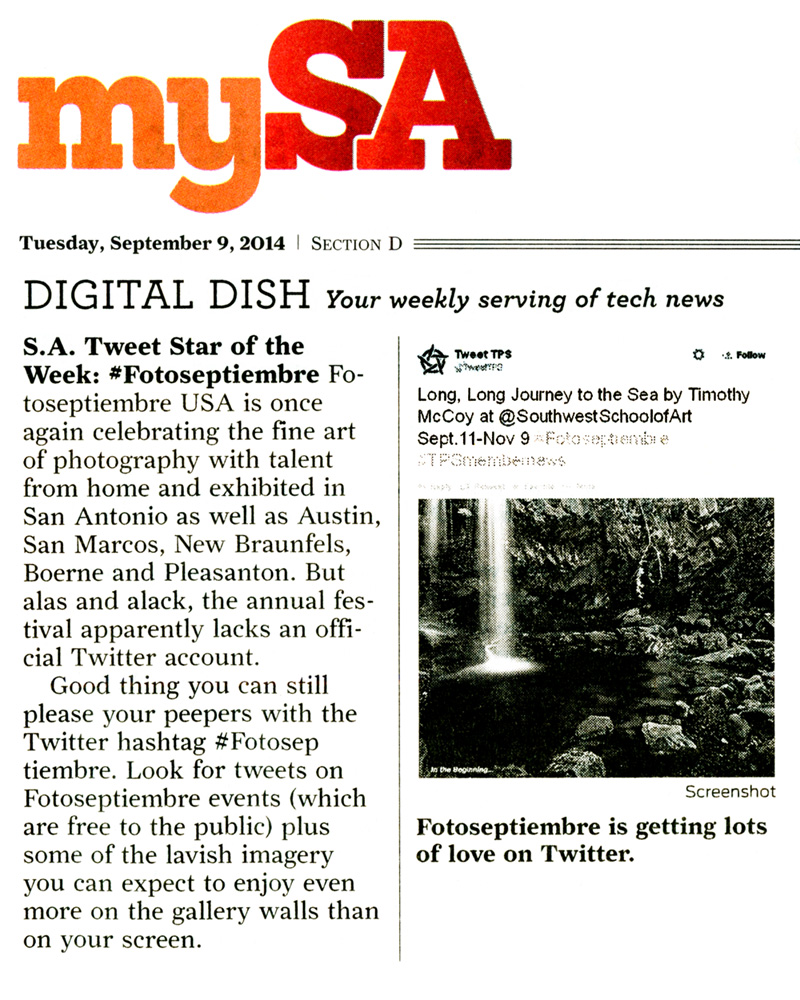 San Antonio Tweet Star Of The Week : #Fotoseptiembre
FOTOSEPTIEMBRE Is Getting Lots Of Love On Twitter
San Antonio Express News – Digital Dish
In spite of Paul Vaughn's (Fotoseptiembre Chief Technologist) numerous (mostly fruitless) efforts to make us more social-media savvy, we have now been officially, and publicly, outed as luddites.
But hey… we're Tweet Stars! How tweet is that?
Many thanks to the peepers at Digital Dish for keeping tabs!

FOTOSEPTIEMBRE USA in San Antonio
Meet two talented local photographers, Tom Turner and Daniela Riojas, who'll participate in the month-long FOTOSEPTIEMBRE USA International Photography Festival. Also, Ruiz Healy Art presents the exhibit Straight From Spain, with photographers Isabel Muñoz and Juan Manuel Castro Prieto.
Asia Ciaravino for KLRN TV-Arts.


FOTOSEPTIEMBRE: Focused On The Artist And The Image
Lily Casura for The Rivard Report




FOTOSEPTIEMBRE STRIKES BACK
FOTOSEPTIEMBRE Pic(k)s: 5 Shows Not To Miss At This Year's Fest
Sarah Fisch for The San Antonio Current
Cover design by Eli Miller


Visual Arts Festival FOTOSEPTIEMBRE Beginning In San Antonio
Jack Morgan for Texas Public Radio-Arts & Culture
–––––––––––––––––––––––––––––––––––––––––––––––––––––––––––––––––––––––
• FOTOSEPTIEMBRE At Pleasanton Civic Center
Arts On Main Cultural Initiative
GLENDA THOMSPON, STEVEN SMITH, DIANA GUTHRIE
DAVID HERNANDEZ, MATT GARCIA, DAVID WISHARD
AMANDA PALOMO, ADOLPHUS SANCHEZ JR, RONALD SANCHEZ JR
CHARLES CALE, THELMA CALE, PLEASANTON HIGH SCHOOL PHOTOGRAPHY CLASS
Through The Spyglass
Lisa Luna – Pleasanton Express | October 1, 2014
• UTSA Art Gallery
DORNITH DOHERTY – FOTOSEPTIEMBRE 2014 Choice Award
Seeds, Science, Sustenance and Snacks
University Of North Texas | September 30, 2014
• Pleasanton Civic Center
Arts On Main Cultural Initiative
GLENDA THOMSPON, STEVEN SMITH, DIANA GUTHRIE
DAVID HERNANDEZ, MATT GARCIA, DAVID WISHARD
AMANDA PALOMO, ADOLPHUS SANCHEZ JR, RONALD SANCHEZ JR
CHARLES CALE, THELMA CALE, PLEASANTON HIGH SCHOOL PHOTOGRAPHY CLASS
Through The Spyglass
Pleasanton Express | September 24. 2014
• Ruiz Healy Art
Straight From Spain
International Collaboration Is Theme For Ruiz-Healy Art
Marco Aquino – The Rivard Report | September 22, 2014
• FOTOSEPTIEMBRE USA 2014
An Insider's Look
Vernelle Lynch – Destinations San Antonio | September, 2014
• FOTOSEPTIEMBRE USA 2014
An Insider's Look
Vernelle Lynch – Ten West Living | September, 2014
• Ruiz Healy Art
ISABEL MUNOZ, JUAN MANUEL CASTRO PRIETO
Straight From Spain
Artdaily.org | September 19, 2014
• Northwest Vista College
DEBORAH KELLER-RIHN, MELANIE RUSH DAVIS (Curators/Organizers)
Mixing It Up
WOAI News 4 San Antonio – San Antonio Living | September 19, 2014
• Northwest Vista College
VARIOUS ARTISTS
Mixing It Up
la reVista – Northwest Vista College | September 18, 2014
• Northwest Vista College
VARIOUS ARTISTS
Mixing It Up
do210.com | September 18, 2014
• Mercury Project
DANIELA RIOJAS
A Collection of Work
Puro Pinche | September 18, 2014
• AnArte Gallery
EDUARDO BERDEGUE, THOMAS DODD
AUBRA FRANKLIN, TRISH SIMONITE
Whimsical. Magical, Surreal
Bryan Rindfuss – San Antonio Current Calendar | September 17, 2014
• Mercury Project
DANIELA RIOJAS
A Collection Of Work
DANIELA RIOJAS' PHOTOGRAPHIC STUDIES IN SELF-DISCOVERY
Tom Turner – San Antonio Current | September 17, 2014
• Mercury Project
DANIELA RIOJAS
A Collection Of Work
Bryan Rindfuss – San Antonio Current Calendar | September 17, 2014
• Gallista Gallery – San Anto Cultural Arts
Detras Del Lente – Youth Photography
El Placazo Special Photo Issue | September 13, 2014
• Robert B. Green Clinical Pavilion
CRISTINA J. SANCHEZ
Bantu EyeZ
Jack Morgan – Texas Public Radio | September 12, 2014
• San Antonio College
TRICIA BUCCHORN, REBECCA DIETZ, JO HILTON, EDMUND LO
MARK MAGAVERN, ELIA ZEPEDA, LEONARD ZIEGLER : Natural Visions
Seven San Antonio College Employees Featured In Fotoseptiembre Exhibit
Pam Paz – The Ranger | September 10, 2014
• San Antonio College
TRICIA BUCCHORN, REBECCA DIETZ, JO HILTON, EDMUND LO
MARK MAGAVERN, ELIA ZEPEDA, LEONARD ZIEGLER : Natural Visions
Promotional Poster | September 10, 2014
• FOTOSEPTIEMBRE USA 2014
FOTOSEPTIEMBRE Getting Lots Of Love On Twitter
San Antonio Express News – Digital Dish | September 9, 2014
• FOTOSEPTIEMBRE USA 2014
TOM TURNER : The Color Of Memory
DANIELA RIOJAS : A Collection Of Work
RUIZ HEALY ART : Straight From Spain
KLRN TV – Arts | September 5, 2014
• FOTOSEPTIEMBRE USA 2014
FOTOSEPTIEMBRE : Focused On the Artist And The Image
Lily Casura – The Rivard Report | September 4, 2014
• FOTOSEPTIEMBRE USA 2014
Lily Casura On Twitter | September 4, 2014
• St Mary's University
ANNETTE CRAWFORD
Music & Mortar
Annette Crawford – The Rivard Report | September 4, 2014
• San Antonio College Library & William R. Sinkin Eco Centro
VARIOUS ARTISTS
San Antonio College | September 4, 2014
• FOTOSEPTIEMBRE USA 2014
29 Works Of Art From Fotoseptiembre
San Antonio Current Slide Show | September 3, 2014
• FOTOSEPTIEMBRE USA 2014
FOTOSEPTIEMBRE STRIKES BACK
Fotoseptiembre Pi(c)ks : Five Shows Not To Miss This Year
Sarah Fisch – San Antonio Current | September 3, 2014
• Southwest School Of Art
MATTHEW ALBANESE, KIM KEEVER, KILA & RUSHARC, SEOKMIN KO
SCOTT MARTIN, JOHN PFAHL, BARRY UNDERWOOD : Altering Space
San Antonio Current – Critic's Pick | September 3, 2014
• French & Michigan
SARAH SUDHOF
Supply & Demand
San Antonio Current – Critic's Pick | September 3, 2014
• Northwest Vista College
VARIOUS PHOTOGRAPHERS
Mixing It Up
San Antonio Current – Critic's Pick | September 3, 2014
• Southwest School Of Art New Exhibits
Southwest School Of Art | September 3, 2014
• San Antonio College Library
MARK MAGAVERN
Out Into The Wild : A Texas Portfolio
San Antonio College Promotional Poster | September 3, 2014
• Southwest Workers Union
ERIC LANE
Havana Now
San Antonio Current Calendar Critic's Pick | September 3, 2014
• Say Sí
SAY SI MIDDLE SCHOOL & HIGH SCHOOL STUDENTS
Echoes Reconstructions Of Images Past
Puro Pinche | September 1, 2014
• Keller-Rihn Studio & Villa Finale Visitor Center
MONTE ADAMS, TOMMY ADAMAS, BARBARA DEAN HENDRICKS
The Street Is Your Museum
San Antonio Magazine | September 1, 2014
• FOTOSEPTIEMBRE USA 2014
Visual Art Source | September 1, 2014
• The Wittliff Collections
MARY ELLEN MARK
Man And  Beast : Photographs From Mexico And India
San Antonio Express News Weekender – Staff Picks | August 31, 2014
• Cathedral House Gallery
JIM ELLIOT, MAUREEN LEACH, EDWIN SASEK
PETER SZARMACH, DAN THARP
Photo-Contemplo
Episcopal Diocese Of West Texas – Calendar | August 30, 2014
• San Antonio College
MARK MAGAVERN : Out In The Wild
TRICIA BUCCHORN, REBECCA DIETZ, JO HILTON
EDMUND LO, ELIA ZEPEDA, LEONARD ZIEGLER : Natural Visions
The Ranger | August 29, 2014
• Southwest Workers Union
ERIC LANE
Havana Now
Kay Richter – The Rivard Report | August 29, 2014
• Southwest Workers Union
ERIC LANE
Havana Now
Puro Pinche | August 29, 2014
• Southwest Workers Union
ERIC LANE
Havana Now
Artmosphere Emailer | August 29, 2014
• Southwest Workers Union
Eric Lane
Havana Now
Do 210 | August 29, 2014
• FOTOSEPTIEMBRE USA 2014
Get Creative San Antonio
Artmosphere Emailer | August 29, 2014
• Clamp Light Artist Studios & Mercury Project
TOM TURNER : The Color Of Memory
Daniela Riojas : A Collection Of Work
KLRN TV Arts Promotional Spot | August 29, 2014
• City Of San Antonio International Center
AL RENDON
Timeless Icons : The San Antonio Missions
Steve Bennett – San Antonio Express News Entertainment | August 28, 2014
• City Of San Antonio International Center
AL RENDON
Timeless Icons : The San Antonio Missions
Steve Bennett – The Houston Chronicle | August 28, 2014
• City Of San Antonio International Center
AL RENDON
Timeless Icons : The San Antonio Missions
Steve Bennett – San Antonio Express News | August 28, 2014
• FOTOSEPTIEMBRE USA
Staff Picks – Must See Gallery Shows
Steve Bennett – San Antonio Express News | August 28, 2014
• Ruiz Healy Art
ISABEL MUNOZ, JUAN MANUEL CASTRO PRIETO
Straight From Spain
Wall Street International | August 28, 2014
• Say Sí
SAY SI MIDDLE & HIGH SCHOOL STUDENTS
Echoes : Reconstructions Of Images Past
Jack Morgan – Texas Public Radio | August 27, 2014
• Villa Finale Vistor Center
VARIOUS PHOTOGRAPHERS
Somos San Antonio
Bryan Rindfuss – San Antonio Current Calendar Editor's Pick | August 27, 2014
• FOTOSEPTIEMBRE USA 2014
Fotoseptiembre Beginning In San Antonio
Jack Morgan – Texas Public Radio | August 26, 2014
• La Peña (Austin)
VARIOUS PHOTOGRAPHERS
Punto De Vista
Promotional Card | August 23, 2014
• Musical Bridges Art Gallery
ROBERT MICHAELSON, JIM SPARKMAN
Silent World
Steve Bennett – San Antonio Express News Weekender | August 22, 2014
• Cinnabar Art Gallery
ANNE DORAN, AUGUST MUTH, ALLISON WADE
RODOLFO CHOPERENA, SALLY WEBER
Momentary Realities
Promotional Card | August 22, 2014
• FOTOSEPTIEMBRE USA 2014
Get Creative San Antonio
Artmosphere Emailer | August 22, 2014
• SAFOTO Web Galleries
ALBAN LECUYER : Here Soon
THIBAULT DE PUYFONTAINE : Late Colors
Cultural Service At The French Consulate In Houston | August 21, 2014 

• UNAM San Antonio
EMMA LOZANO
Revealing Mexico : The Colors Of My City
Promotional Card | August 21, 2014
• Southwest Workers Union
ERIC LANE
Havana Now
Promotional Card | August 21, 2014
• St Mary's University
ANNETTE CRAWFORD
Music & Mortar
St Mary's University Calendar | August 20, 2014
• French & Michigan
SARAH SUDHOFF
Supply And Demand
Elda Silva – San Antonio Express News | August 20, 2014
• Musical Bridges Around The World
ROBERT MICHAELSON, JIM SPARKMAN
The Silent World
Bryan Rindfuss – San Antonio Current Calendar Editor's Pick | August 20, 2014
• Huisache Grill
SONJA HELDT HARRIS
Life On The Ranch
Red Sonja – Conservatives In Action | August 20, 2014
• FOTOSEPTIEMBRE USA 2014
Piclet.org Events Calendar
Piclet.org | August 20, 2014
• FOTOSEPTIEMBRE USA 2014
San Antonio Current Events Calendar
San Antonio Current | August 20, 2014
• UTSA Art Gallery
DORNITH DOHERTY
Seeds, Science, Sustenance & Snacks
Promotional Card | August 20, 2014
• Ruiz Healy Art
ISABEL MUÑOZ, JUAN MANUEL CASTRO PRIETO
Straight From Spain
Press Release | August 20, 2014
• Cinnabar Art Gallery
ANNE DORAN, AUGUST MUTH, ALLISON WADE
RODOLFO CHOPERENA, SALLY WEBER
Momentary Realities
Promotional Emailer | August 20, 2014
• Say Sí
SAY SI MIDDLE SCHOOL & HIGH SCHOOL STUDENTS
Echoes : Reconstructions Of Images Past
Promotional Emailer & Press Release | August 20, 2014
• FOTOSEPTIEMBRE USA 2014
San Antonio CVB Events Calendar
Visit San Antonio.com | August 19, 2014
• FOTOSEPTIEMBRE USA 2014
San Antonio CVB Fall Getaway Emailer
Visit San Antonio.com | August 19, 2014
• San Antonio Central Library
JOE LUNA, KALLIE PFEIFFER, ROLANDO SEPULVEDA
Prime
San Antonio Public Library Calendar | August 18, 2014
• Southwest Workers Union
ERIC LANE
Havana Now – Habana Hoy
Social Alerts.com | August 17, 2014
• La Peña (Austin)
VARIOUS PHOTOGRAPHERS
Punto De Vista
Social Alerts.com | August 17, 2014
• Southwest School Of Art
MATTHEW ALBANESE, KIM KEEVER, KILA & RUSHARC, SEOKMIN KO
SCOTT MARTIN, JOHN PFAHL, BARRY UNDERWOOD : Altering Space
TIMOTHY MCCOY : Long, Long Journey To The Sea
GREG KINNEY : Forty Years Of Color
Meet Up.com | August 17, 2014
• Mercury Project
DANIELA RIOJAS
A Collection Of Work
Promotional Card | August 16, 2014
• Anarte Gallery
AUBRA FRANKLIN
Anarte Gallery Web Page | August 16, 2014
• AnArte Gallery
EDUARDO BERDEGUÉ, THOMAS DODD, AUBRA FRANKLIN, TRISH SIMONITE 
Whimsical, Magical, Surreal
Promotional Card | August 16, 2014
• City Of San Antonio International Center
AL RENDON
Timeless Icons : The San Antonio Missions
Promotional Emailer | August 16, 2014
• Southwest School Of Art
SEOKMIN KO (and MATTHEW ALBANESE, KIM KEEVER, KILA & RUSHARC
SCOTT MARTIN, JOHN PFAHL, BARRY UNDERWOOD)
Altering Space
Asia Art Archives | August 16, 2014
• Southwest School Of Art
SEOKMIN KO (and MATTHEW ALBANESE, KIM KEEVER, KILA & RUSHARC
SCOTT MARTIN, JOHN PFAHL, BARRY UNDERWOOD)
Altering Space
Art Projects International | August 16, 2014
• Say Sí
MIDDLE & HIGH SCHOOL STUDENT ARTISTS
Echoes – Reconstructions Of Images Past
The Fund San Antonio | August 16, 2014
• Ruiz Healy Art
ISABEL MUÑOZ, JUAN MANUEL CASTRO PRIETO
Straight From Spain
Get Creative San Antonio | August 15, 2014
• Ruiz Healy Art
ISABEL MUÑOZ, JUAN MANUEL CASTRO PRIETO
Straight From Spain
Promotional Card | August 15, 2014
• Robert B. Green Clinical Pavilion
CRISTINA J. SANCHEZ
Bantu EyeZ
University Health System | August 15, 2014
• Cathedral House Gallery
MARY ELLEN ARCHER, JIM ELLIOT, MAUREEN LEACH, JANA ORSINGER
EDWIN SASEK, CHRISTIE SCHROETER, PETER SZARMACH, DAN THARP
Photo Contemplo
Promotional Flyer | August 15, 2014
• Musical Bridges Art Gallery
ROBERT MICHAELSON, JIM SPARKMAN
The Silent World
Promotional Emailer | August 14, 2014
• Keller-Rihn Studio
BARBARA DEAN HENDRICKS, MONTE ADAMS, TOMMY ADAMS
The Street Is Your Museum
Press Release | August 13, 2014
• City Of San Antonio International Center
AL RENDON
Timeless Icons : The San Antonio Missions
Elda Silva – San Antonio Express News Weekender | August 8, 2014
• Villa Finale Visitor Center
Call For Entries
Somos San Antonio
Villa Finale – Saving Spaces | August 2, 2014